09 January 2023
A new and improved Drive Go
Drive Go is New Zealand's only official app for helping young people in learning to drive a car.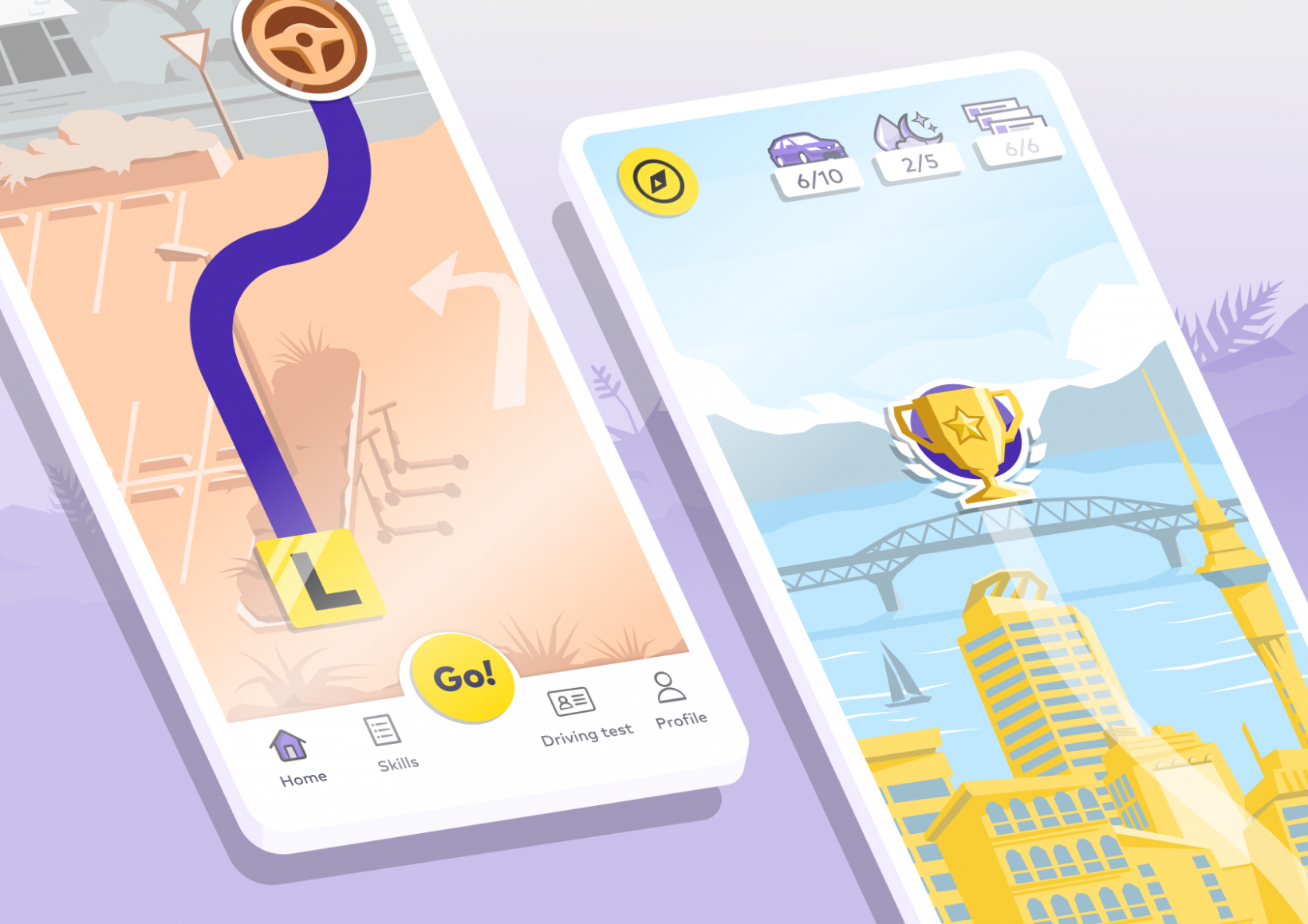 The Drive Go app uses the latest tech to help them learn the skills needed to pass the restricted test and be a good driver. The app was developed with input from professional driving instructors, and can be used on its own, or to complement the skills learned through lessons with a driving instructor.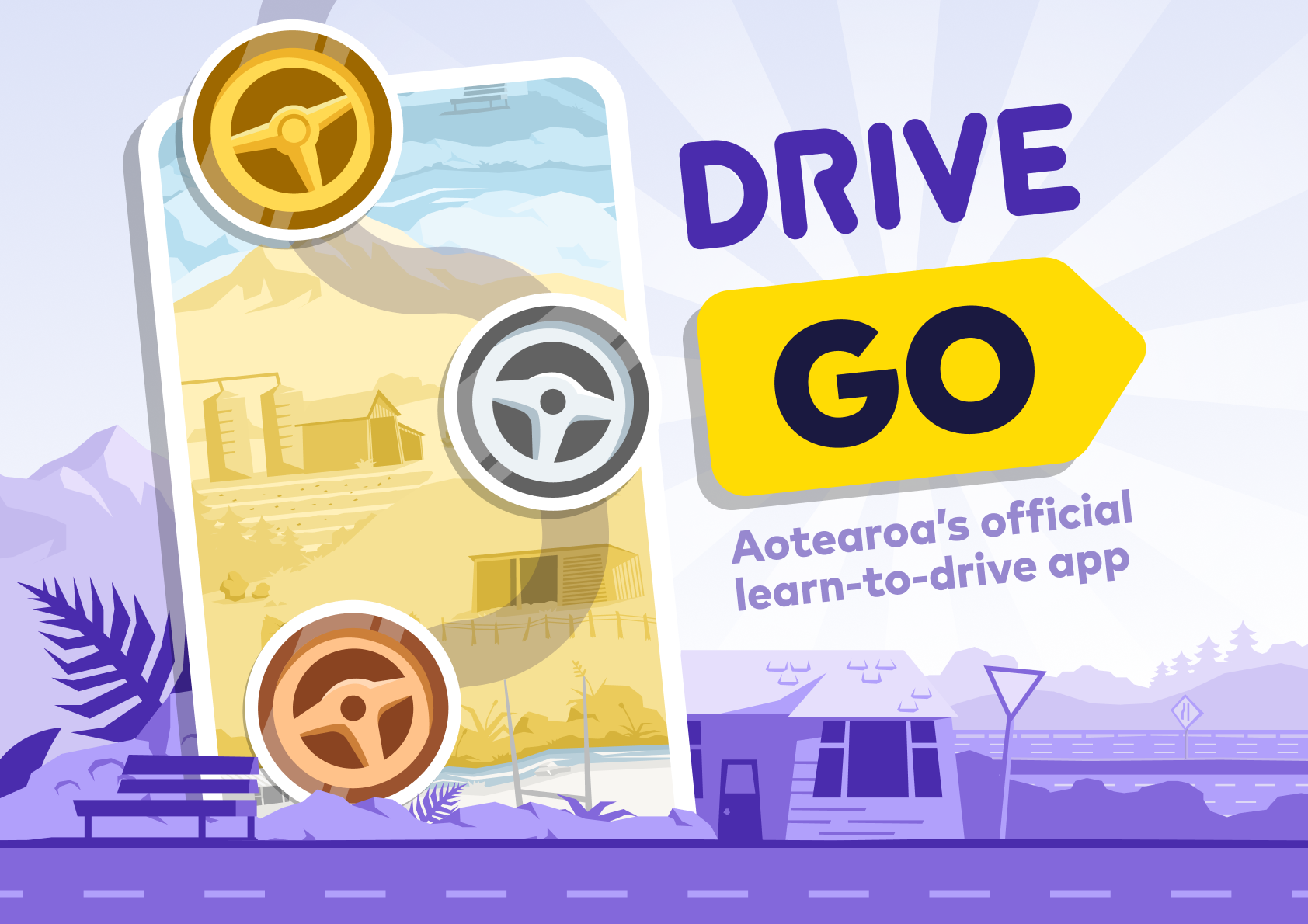 Go for launch
When the Drive Go app was being developed, young drivers told us they found it hard to know when they had the skills needed to successfully sit the restricted test. They also mentioned they felt like they weren't getting enough experience under challenging conditions such as driving at night, in the rain or in heavy traffic. Coaches also recognised that they may be passing on bad habits because their driving knowledge wasn't as good as it could be.
With those findings in mind, the first release of Drive Go in 2020 was designed to help young drivers learn the essential safe driving skills they need, encourage constructive feedback between the young driver and their coach, and prompt young drivers to get experience in a wide range of conditions to make sure they are well-prepared for the restricted test.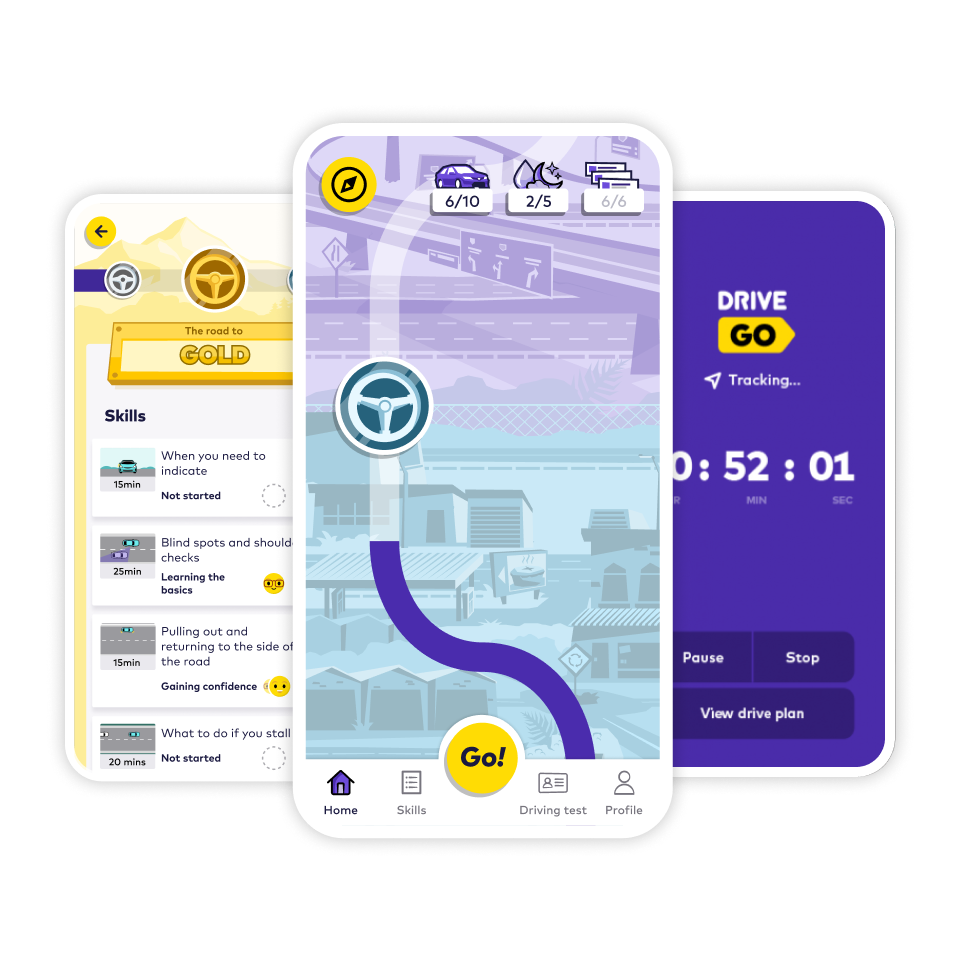 The Road to Zero
When Drive Go was first launched it was deemed best practice in its approach to structured learning and showed great results in improving the driving skills of its users. However, an analysis of the engagement data showed that young women were the main users. We wanted to ensure it was also resonating with young male drivers aged 15–24 – the demographic responsible for 25% of serious crashes on New Zealand roads.
This insight coincided with the establishment of the ambitious Road to Zero strategy to drastically improve road safety. To support this strategy and better connect with young male drivers, a revamp of the Drive Go app was undertaken. This involved reviewing learning styles and user habits, analysing broader data around crash statistics and safety factors, and co-designing in workshops with teenage boys.
Tailor made tweaks
Through research and workshops, the value systems and learning processes of young male drivers were uncovered. We found that these road users were goal-oriented, that they wanted to clearly see their progress, and that they needed to be rewarded early to stay engaged.
Various improvements were made in response. Learning modules were reorganised, prioritising key information and skills most likely to help prevent accidents. Progression through the app was redesigned to resemble a road, with skills grouped into logical levels that reflected what these drivers needed to know at each stage of learning. The system for rating skills after each drive was also made simpler and more intuitive.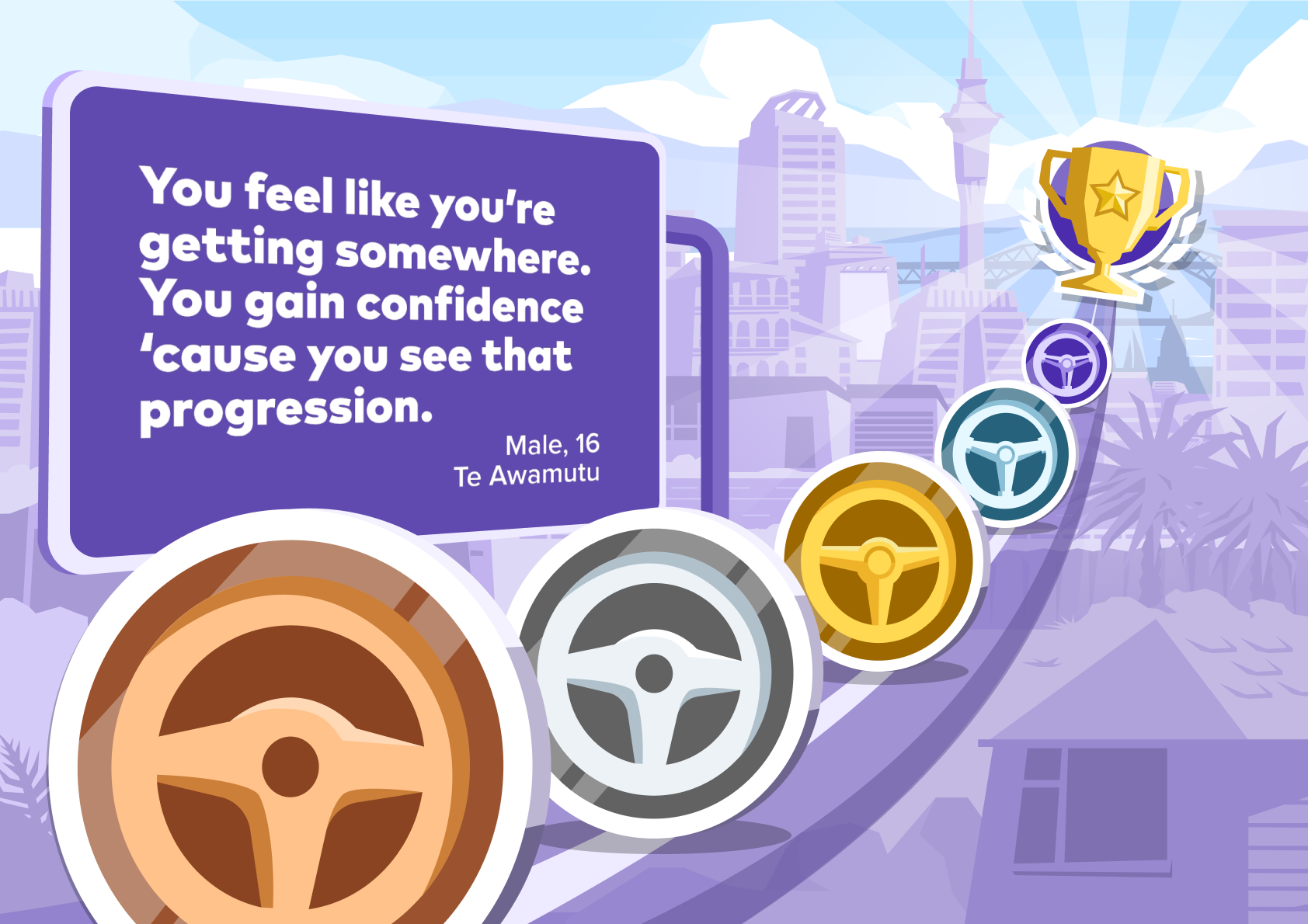 Better progress tracking
In response to young drivers' visual preferences and learning styles, we favoured imagery to convey information. This led us to transform the progress bar. As they complete the recommended skills, young drivers are rewarded by advancing further along the progress road. At each level, they see an animation celebrating their new rank.
Key features of the new improved app include:
Learning what's in the restricted test, what the common mistakes are and how to avoid them.
Tracking a user's progress, what they've learned, what they're doing well, what needs more practise and what to work on next.
Recommendations for what skills to practise next, based on the user's rank status, environment (urban or rural) and vehicle transmission type (manual or automatic).
Short videos showing how to learn and practise each driving skill.
Tips to help coaches give useful feedback on the student's driving.
Tracking of drives using GPS; users earn achievements based on where they drive and for how long.
Summary of user's progress through the ranks as they complete drives and rate the skills they've learned.